I'm terribly ungrateful most of the time.
Eden's first sin is repeated in my flesh over and over and over daily.
I forget that God's heart is good, and so I demand from him and life the things that I think are rightfully mine.
And happniess and contentment evade me.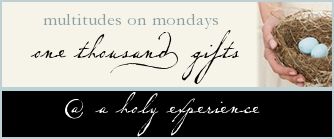 One Thousand Gifts has been a brilliantly written reminder of the power of thankfulness, for seeing the magnificent in the mundane, for learning to hope for joy through faith in grace and God's goodness.
And so today, I'm beginning a record of my own 1000 gifts, the tiny bits of grace and goodness that God is giving me each day….pursuing joy in thankfulness.
Check out Multitudes on Mondays to see what other women are thanking God for.
1. Fresh snow on tree branches
2. Sunday lunch with my family
3. Early morning fog
4. Newborns' fuzzy hair
5. Baby's first smile
6. Flannel sheets
7. Lemon bars baking in the kitchen
8. Calls from my husband just to say hi
9. The bright blue in the eyes of my oldest boys.
10. Cellos